K-Leak Testers - Leak Testing kit N2/H2 for Refrigeration & A/C Systems
Also suitable for connection to industrial N2 and N2/H2 cylinders with valve outlet 21,7 x 1/14" RH female
Suitable for connection to Kryon® HydroCheck (blend nitrogen +5% hydrogen) 5 liters - 1 cum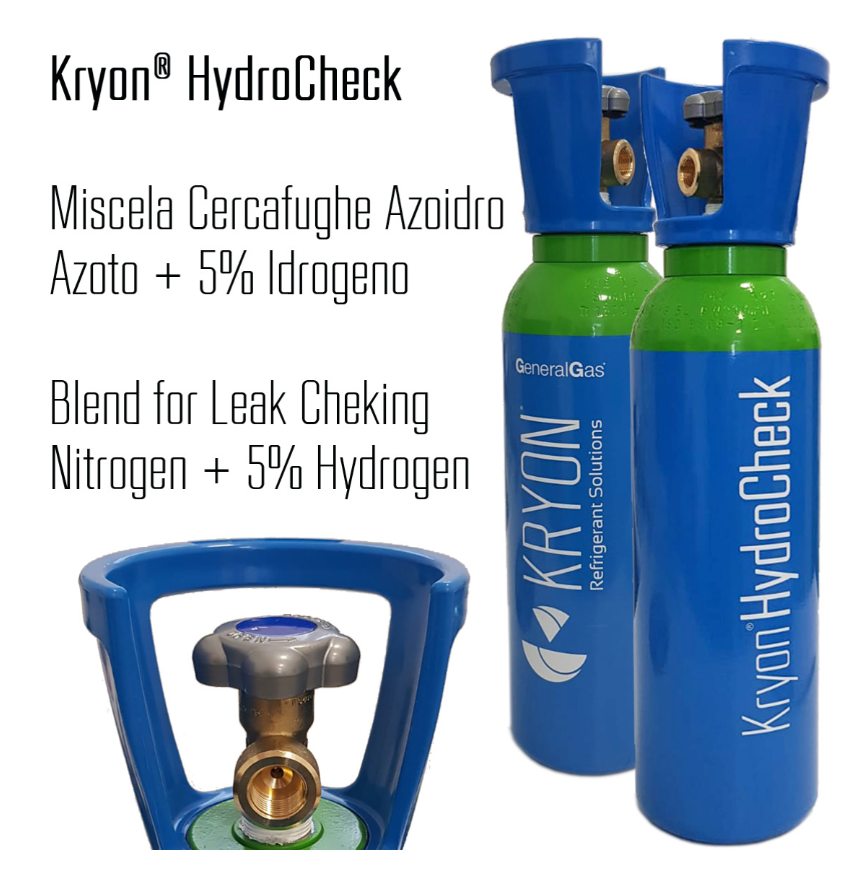 K-Leak Testers is an essential equipment that allows the pressurization of refrigeration and air conditioning systems; it works by simulating the
operating pressure reached by RAC systems, while working at the standard conditions.
Using this equipment, the technician will be able to pressurize the system at the right pressure value, for a given refrigerant; the right operating
pressure of each refrigerant is shown by the pressure gauge dial (each refrigerant is identified by different colours).
Once the operating pressure is reached, the technician will be able to detect leakages in the systems (eg. caused by faulty components, badly
executed flaring, defective welded joints) which will cause loss of pressure, detected by the pressure gauge included in the kit.
The technicial will thus be able to carry out precise diagnostics as to the type of failure, fix it and guarantee system optimization.
By using this kit with blend Nitrogen/5% Hydrogen detection of leaks smaller than 2 grams/year is made possible.
The kit is supplied with the following items:
- Flexible tube with ball valve and pressure gauge (with colour coded sections)
- Flexible tube 1 mt. (yellow) – 4000 psi
- Adapter ¼" SAE female – 5/16" SAE male
- Adapter ¼" SAE male – 5/16" female
- Nitrogen pressure regulator (outlet pressure max 50 bar)
- Blend nitrogen/hydrogen cylinder G-TEC (N2/H2 5%) – capacity 0,95 lts. – gas contents 105 Nlt./114 gr.
- Plastic base for cylinder capacity 0,95 lts.
Signup or Signin for Download
Other Formats